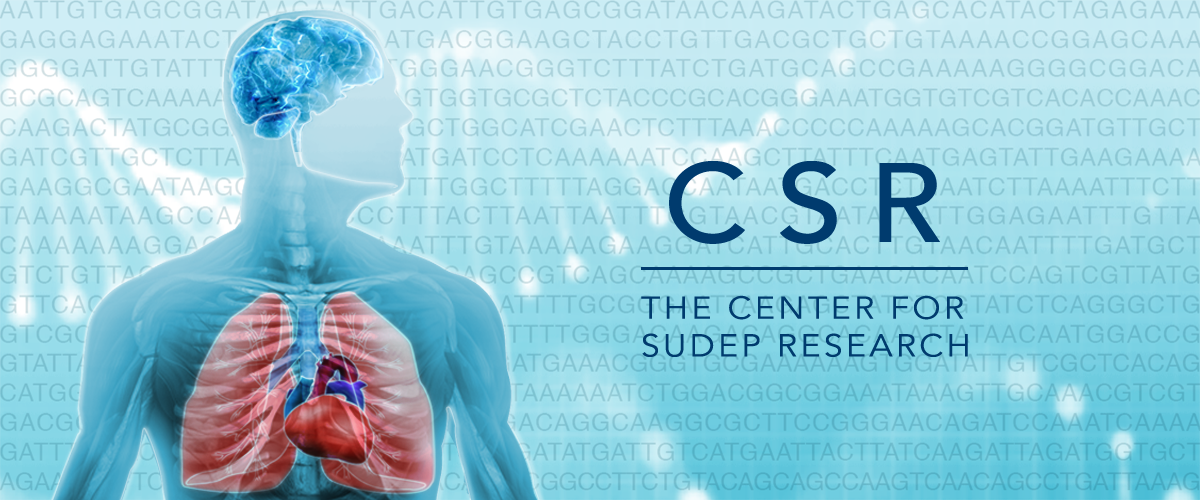 What is SUDEP?
CSR Collaborative Research
About CSR
The CSR Charter
Participating Centers
Sponsors & Partners
CSR Pilot Programs
"SUDEP refers to the sudden, unexpected death of an individual, with a diagnosis of epilepsy, who dies suddenly, in benign circumstances, without a structural or toxicological cause for death being found at autopsy."


Awareness is the first step in finding the cause and prevention of SUDEP.
What causes SUDEP?
Risk factors for SUDEP
What is the incidence of SUDEP?
Minimizing the risk of SUDEP
Learn More...
CSR holds Expert Basic Science Workshop in Boston, 2016

In March, basic science principle investigators of the CSR convened at Beth Israel Hospital for one of a series of expert opinion workshops to share multidisciplinary strategies exploring the pathophysiology of SUDEP in human and mouse models. Organized by the CSR and hosted by Clifford Saper, MD,PhD, Professor and Chair of Neurology at Harvard Medical School, the one day meeting included nearly 35 investigators outside the SUDEP field.

Since SUDEP involves the abrupt shutdown of brain, breathing, and heart within a short period following a nocturnal seizure, speakers focused on molecular and functional defects in central autonomic cardiorespiratory pathways, sleep cycles, and arousal mechanisms that could interfere with normal reflexes promoting recovery from a seizure. Major open questions center on the timing of SUDEP. Can it be predicted? Why does the vast majority of SUDEP occur during sleep? What explains the delayed peak incidence from adolescence into adulthood?

CSR members were joined by research groups from Harvard Medical School and Dartmouth Geisel School of Medicine to discuss the intriguing commonalities between SUDEP and sudden infant death syndrome (SIDS), and autism. A review of overlapping clinical phenotypes and biological mechanisms among these epilepsy-related conditions generated new insights, valuable discussion, and set the stage for active scientific networking among the participants.
The Center for SUDEP Research (CSR) is a National Institute for Neurological Disorders and Stroke (NINDS) funded Center Without Walls for Collaborative Research in the Epilepsies.
This milestone-driven collaboration is composed of researchers from 14 institutions across the United States and Europe and brings together extensive and diverse expertise to understand Sudden Unexpected Death in Epilepsy Patients (SUDEP).

The CSR's scientists and physicians investigate and elucidate these links with their expertise in molecular biology, genetics, histopathology, electrophysiology, brain imaging, data analysis, and more. The team will identify the molecular and structural brain abnormalities underlying SUDEP, utilize these discoveries to identify features that could predict and identify those at risk of SUDEP, and hone in on those targets for the development of potential therapeutic interventions.

Overall, this investment by NINDS over nearly five years promises to catalyze research on SUDEP and dramatically enhance our understanding of this poorly understand and devastating phenomenon.
Learn More...
The CSR brings together leading investigators, clinical and basic science projects, multidisciplinary technology and advanced resources to form a collaborative network dedicated to significantly reducing SUDEP mortality. This spirit of collaboration includes timely sharing of ideas without compromising intellectual autonomy, ownership, and credit.

Members sign the Charter Agreement and agree to a principle of transparency, with particular regard to future grant applications leveraged by CSR, and forthcoming peer reviewed publications, conference presentations, press releases, and other materials arising directly from CSR activities.

A key strategy is to provide each CSR investigator and research group with regular, expedited access to expertise and knowledge as well as core facilities that may not otherwise be available to them.

CSR members are encouraged to share any relevant activities that do not directly arise from CSR resources, cores or scientific projects. Our goal is a broader collaboration within the scientific community to advance knowledge about SUDEP.
The goal of CSR Partners is to foster collaboration and communication between the investigators working within the Center for SUDEP Research and non-profit, academic, industry and government partners.
CSR investigator is awarded $1.7 million grant for SUDEP artificial intelligence study.

5/18/2020
| | |
| --- | --- |
| | Dr. Licong Cui (PhD) has been awarded a five-year NIH/NINDS R01 grant to study SUDEP risk markers in the prospective data collected by the CSR's Autonomic and Imaging Biomarkers of SUDEP project. Identification and communication of alterable SUDEP risk factors to affected patients is an important strategy to lower SUDEP incidence. However, systematic individualized assessment of SUDEP risk is currently unavailable. In this project, Cui proposes to develop SURME, a SUDEP Risk Marker Extraction system for automated extraction of known and putative SUDEP risk markers from the multimodal patient data collected by the Center for SUDEP Research including patient epilepsy monitoring unit evaluations, follow-up forms, and electrophysiological signals. Success of this study will enable systematic SUDEP risk assessment based on known and putative factors and communication of such risk factors to patients with epilepsy. Ultimately, this study will lead to individualized evidence-based SUDEP risk assessment tools that help clinicians and patients manage potentially modifiable risks, leading to overall reduced SUDEP mortality and improved epilepsy patient care. |
| | |
Winners of the 2018 Center for SUDEP Research Annual Pilot Program.
The NINDS Center for SUDEP Research is pleased to announce the winners of the 2018 UCB funded Pilot Award Program for SUDEP Research.
| | |
| --- | --- |
| | Basic Science Pilot Award for SUDEP - The role of the extended amygdala in respiratory control and sudden unexplained death in epilepsy - PI William Nobis of Northwestern University Feinberg School of Medicine |
| | Clinical Research Pilot Award for SUDEP – Quantifying the severity of generalized tonic clonic seizures with connected devices during video-EEG monitoring – PI Philippe Ryvlin of University of Lausanne, Switzerland |
The NINDS Center for SUDEP Research's Pilot Award Program for 2018 was made possible with two generous research grants from UCB Pharmaceuticals USA, one for a basic science project, and one for a clinical research project. Each award is for $80,000 total costs. Nineteen high quality submissions were made from Europe and USA this year, and reviewed by expert basic science and clinical researchers in SUDEP and epilepsy mortality. Since inception in 2014, the Center for SUDEP Research has had 61 applications from six countries, and has awarded funding to ten pilot projects.
The CSR seeks novel pilot projects that will address the goal of understanding and eliminating SUDEP. This pilot program will award grants to national and international researchers submitting innovative proposals that compliments and expands on the SUDEP research proposed in the CSR. The CSR plans to support one clinical or basic research pilot project (clinical trials will not be funded through this mechanism, but studies involving human subjects are allowed). Aluminum Metal Successful applicants will be expected to work collaboratively with the CSR investigators.
This award is available to both young and established investigators exploring cutting-edge approaches to understanding and preventing human SUDEP. International applicants and applicants from outside the field of epilepsy with novel insight into the causes and prevention of SUDEP are welcome. Investigators already funded by the CSR are not eligible to apply. All materials must be submitted in English.